GIANNELLA DE MARCO
30/06/2008
Roberto Medeiros Perelló - Porto Alegre/RS
Em Zero Hora de 30/junho/2008, página 38, no Almanaque Gaúcho do Jornalista OLYR ZAVASCHI foi publicada a seguinte matéria:
Túnel do Tempo
A maestrina Giannella
O poeta Raul Quevedo lembra que em 1949 o Theatro São Pedro de Porto Alegre recebeu e aplaudiu uma menina de seis anos, Giannella de Marco. Italiana, a menina se transformara um ano antes num sucesso em seu país, na Europa e no mundo, ao se exibir como a mais jovem maestrina a reger orquestras de primeiro nível. A foto mostra, segundo Quevedo, Giannella regendo em Porto Alegre. Aos nove anos, em 1953, já fazia a 123ª apresentação como maestrina dirigindo nada menos que a London Philarmonic Orchestra, na capital britânica. O próprio Raul Quevedo, impressionado com a arte de Giannella de Marco, dedicou-lhe o poema Anjo Mensageiro:
"Que criança é essa
que de batuta em punho
aparece assim no palco
imenso e qual anjo vindo
da Casa do Senhor,
Encanta multidões nos
maiores teatros do mundo?
Sonho? Magia? Fantasia?".
Além de apresentar-se em Porto Alegre, Giannella de Marco regeu orquestras no Rio, em São Paulo e Belo Horizonte, antes de continuar sua turnê latino-americana em Buenos Aires.
ACERVO RAUL QUEVEDO


A maestrina italiana Giannella de Marco apresentou-se em
Porto Alegre em 1949, quando tinha apenas seis anos.
Sobre o assunto, à título de informação complementar, enviei ao prestigiado jornalista a seguinte mensagem eletrônica:
"Jornalista OLYR ZAVASCHI:

Sou leitor assíduo do ''Almanaque Gaúcho'', e um admirador do seu trabalho.
Com relação à reportagem publicada sobre ''Giannella de Marco'', no quadro Túnel do Tempo, na edição de hoje, 30 de junho de 2008, quero dar uma pequena contribuição.
No dia 30 de setembro de 1950, o povo da cidade de Pelotas viveu uma noite de encantamento no Teatro Guarani, com a apresentação da ''maestrina'' Giannella de Marco, regendo a Orquestra Sinfônica de Pelotas.
No fim do concerto, o maestro Bandeira (um dos maestros da Orquestra Sinfônica de Pelotas) visivelmente emocionado, tomou Giannella no colo e atravessou o corredor central do teatro, em meio à platéia que a aplaudia de pé. No amplo salão de espera, ela recebeu as homenagens da cidade que a acolhia.
Uma placa de bronze, colocada em uma das paredes do corredor que circunda a platéia, registra o acontecimento.
Em anexo envio uma foto da placa.
Por fim, fica esta pergunta: que destino tomou a maestrina Giannella?

Atenciosamente
Roberto Medeiros Perelló"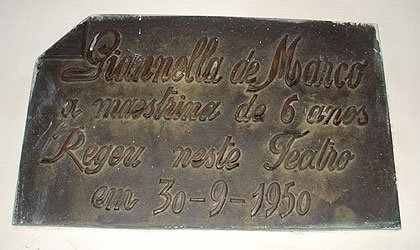 Gianella esteve em Curitiba em 1950. Tinha 5 anos.
Paulo José da Costa - Livreiro
Curitiba / PR
Hello Cristina Pini de Marco,I\'ve heard a true story about Gianella de Marco told by my grandfather! He watched her performance not in a large concert, but an exclusive concert here in Curitiba inside a military quarter for Juscelino Kubitschek (Brazil\'s president of that time). Do you have any e-mail or another contact form? I want to told this story and ask for a picture of her to give to my grandfather. Would you please give me your email address? Or send an email for me: falecomlincoln@gmail.com. Thanks in advance.
Lincoln Alves – front-end developer
Curitiba / PR
A primeira referência a esse fenômeno da música ouvi, nos anos 60, em um show do comediante José Vasconcelos. Depois de tantos anos ocorreu-me pesquisar sobre Gianella de Marco aproveitando as possibilidades da Internet. Fiquei encantado. Faço hoje a mesma pergunta do sr. Roberto Medeiros Perelló: por onde anda Gianella?
Alberto da Hora – Músico
Natal / RN
My father was the first violin of the London Philarmonic when Gianella conducted so I was invited to spend an afternoon with her as I was the same age as her. I have always wondered what happened to her and would love to have her daughter´s contact in Rome.
Linda Cooper – Retired
Portugal
Ho conosciuto la signora Giannella De Marco quando ero ragazzino e lei insegnava al Conservatorio di Roma.Quando Franco Ferrara, il mio Maestro, mi regalò il biglietto per vedere Karajan in Vaticano (1985) mi ricordo di aver visto il concerto arrampicato ad una colonna perchè cedetti il posto a sedere alla signora De Marco.Era una Donna schiva e per nulla presenzialista, non parlava quasi mai del fenomeno che era stata da bambina e comunque era una professionista di grande competenza e preparazione. Da ricordare, come ho fatto poco fa su Facebook.
Gian Luigi Zampieri – Regente
Roma / Itália
Dear Mr. Perello, first of all I have to apologize for my delay in answer, but some lot of troubles took me off from computer.
Thanks a lot of remembering my mom,. It's a honour and a pleasure for me to talk with someone who saw her conducting as a child, and remembering her after all this time.
I've lots of photos picturing her conducting in Brazil, so when I found your beautiful article remembering her I was so excited that I couldn't resist to write to you.
Unfortunately Giannella died on january, exactly the 24th, after a life signed of troubles and ills. Giannella had a beautiful and full of success childhood, but at the age of 20 something seems has happened, something that let her loose her demon. I don't know how and why exactly, but it's happened and she was never the same Giannella.
After all she was a good piano teacher in Santa Cecilia's conservatory until 1995, when she felt in a bad and long ill.
I miss her very much, but the big photo box picturing her conducting orchestras all over the world and the unimaginable amount of newspapers articles, keep her alive.
Regarding the Giannella's photo you've published on vivacharque.com, it's one of my favourite one. I'm really very honoured too to be aware that the wooden plate I've always seen in my famyly house, it's the same of a bronze one placed in the Teatro Guarani in Pelotas.
Giannella always talked about Brazil, how it was her country of choice.
Unfortyunately she never went back, and it was a big regret for her.
Dear mr. Perello thank a lot of remembering her, she deserve it....
With all of my gratitude,
Cristina Pini de Marco
Roma / Itália
Dear Cristina
Today the administrator of the site http://www.vivaocharque.com.br/interativo/artigo07.php forwarded me your e-mail in which you ask for a contact wilh me.
Firstly I would like to say that it is a honour for me be contacted by the daughter of Maestrina Giannella de Marco.
I've seen your mother, with just 6 years old, commanding perfectly of "Orquestra Sinfonica de Pelotas" , that was, logically, so adult and formal. It was 59 years ago and until today I carry in my memory that splendorous night.
So, my e-mail is the one I'm using now and feel comfortable to make any contact with me.
Sincerely,
Roberto M. Perello
Porto Alegre / RS
I'm Giannella's daughter, I'm sorry but I don't speak portugues at all, my mom did.I'm very happy to read that someone remember the great genius of Giannella. Unfortunatelly she died less than a month ago.Thanks a lot, I'm always very proud that someone remember her... thanks again. (09/02/2010)
Cristina Pini de Marco
Roma / Itália
Atenção: (*) indica preenchimento obrigatório!